Darlene Large is the founder of the Homes of the Indian Nation (HOINA),  a not-for-profit organization.  In April 1971, Darlene had a vision of establishing a home for children and after her intense focus on her cause, she established HOINA in 1972 with the help of Elvin Byler.  With Darlene's leadership, HOINA has successfully been helping destitute, handicapped, abused, and orphaned children in South India for over 30 years.
Darlene, as founder and CEO, has been intimately involved with HOINA since its inception.  She donates all her time in managing the operations spending half the year in India and the other half in the U.S.  She plays an active role in the program development and fund raising activities to ensure that HOINA's 200 children are provided shelter, food, clothing, medical care, education, and a caring family environment.  HOINA strives to ensure that children who leave the home are capable of supporting themselves and teach the value of helping others who are less fortunate than they are.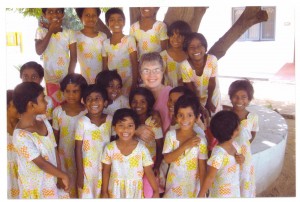 Through her passionate commitment, HOINA has helped thousands of children. In addition to the children's homes, she has established services to support over 60 elderly widows who became victims of the 2005 tsunami and provide medical care to rural villages. Our children have gone on to successful careers as educators, artists, engineers, and business professionals.
Darlene earned her Bachelor of Arts in Art Education from Pennsylvania State University in 1959.  She has a wealth of experience in elementary art instructions in several private and public schools throughout the United States and abroad including Lancaster, PA; Syracuse, NY; Evansville, IL; Venezuela; Mexico, and; India.
Darlene is well recognized in the communities in which she works and lives.  In 1982, the Pennsylvania State University bestowed upon Darlene its Distinguished Alumni Award and College of Education Award.  Additionally, the Rotary International named her an Honorary Rotarian and a Paul Harris Fellow as well as presented her its Leadership Award.  She has been awarded the Woman of the Year by Soroptimists Clubs and was presented the South Asian Orthopedic Association Lifetime Achievement Award. She received the Volunteer of the Year Award from Heart and Hand for the Handicapped, and the Leadership Award from Rotary International, among others. The Lions Club of Chennai, India awarded HOINA the best children's home in the greater Chennai area.
Born in New Brunswick, NJ, Darlene spent much of her childhood years in a community near Pittsburgh, PA. Darlene currently resides in St. Charles, MO with her husband of 52 years, Bruce.  They have three children and four grandchildren.  Overall, Darlene is mother to thousands of children and adults in India who continue to call her Mom.