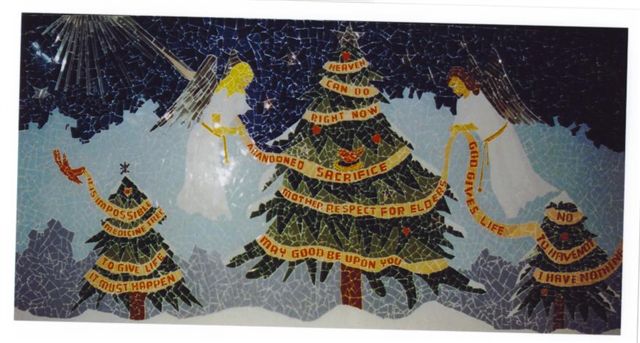 Above is a picture of the mural from the boys' home. It was designed by Darlene and made by the children. Through the years many people have shared with Darlene the meaning of the word HOINA in their language. Here are some of the meanings:
In Sanskrit, a sacred language of India, it means "Abandoned and sacrifice"
In Apache,  "God gives life"
In Nepal, "to have not"
In Navajo, "to give life"
In Oaxaca, Mexico, "Heaven, or the place where God lives"
In Cantonese in China, "can do"
In village Japanese, "right now"
In Ethiopia, a greeting, "May good be upon you"
In Poland, "the evergreen tree"
In Hindi, "I have nothing"
In Bengali, "It is impossible"
In North India, Punjab state, "it must happen"
In S. India (Tamil Language), it's the name of a tree that bears medicine
In Bangladesh, "No" No poverty, no disease
In Philippines, "mother and respect for your elders"
Thanks to your kindness and generosity, to the HOINA staff and children, it means HOPE.