Dear Mom,
My name is Krishna, student of HOINA. I came to HOINA when I was a little boy aged at six years of 1987. Then the hostel located at village at Chirala with small hut. Now HOINA located at Kothasunkarapalem with huge building with all facilities. When I was came here then I was studying 2nd grade. We faced lot of problem when I was in my home. I enjoyed a lot after joined in HOINA with all the joys of all the little kids. From that beginning to now I am studying carefully and with other old students. After finished 10th class, I studied higher education and completed inter degree at my home with the help of HOINA.
After completed B. Sc, I joined in HOINA as a staff to help children year of 2002-2003 after that I joined B Ed Degree with grace of God. Now I hope to study M. Sc in future.
I am very thankful to HOINA and to Mom and family. In future I will be helpful to HOINA as like as other poor people.
Thanking you,
Your loving son,
N. Krishna
---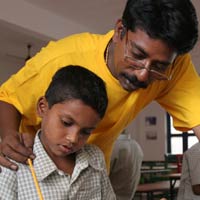 Dear Mom,
I Mr. S. Chandran am privileged to write a few words about myself. My sole desire in writing this is that the name of our Lord Jesus Christ be glorified.
Being born in a poor Hindu family. I had no other option but to live in poverty for quite a long time. Then as the Lord timed it, He answered me through an uncle of mine who introduced me to HOINA Hostel. I came under the love, care, and protection of Mom. At HOINA I pursued my studies. I saw His Hand through the special interest shown by Mom in nurturing the talent I had.
I am very much indebted both to our Lord and as well as to Mom for nurturing this talent of drawing in me.
Your loving son,
S. Chandran
---
Dear Mom,
I am Vinnie. How are you? How is your health? I am safe here by yours and God's grace.
Now I am studying Engineering 2nd year in Srikakulm. Which is nearest to our new project land at Vizag. It is 80 KM faraway from Vizag. Mom, only by your help today I am studying Engineering. Without your help I can't come to this position. Mom, I will be helpful and ideal to HOINA getting good job and good position. I saw many people in my society, every one doing work for their self improvement and improving their assets and bank balances. But, no one think about the obvious poor people, orphaned children and handicapped children. They are creating more problems to poor people.
In this type of days you came from thousands distance to give good future and giving luxury life to us. We are more thankful to you.
Many students are clefer than me and they are not getting help even from their relatives. At that time I remembered you. Without getting of your motivation, help, and god's grace I can't study these higher studies. I think God chose you only for service to us, the poor, orphan, and handicapped children. There is a most need of merciful, sacrifiseful, and hard working people for the sociaty like you. Especially for my India. We are preying to God for giving good strength and patience in doing of all your works.
Please pray for my studies. My best wishes to Papa and Brother and Sister.
Yours lovingly,
A. Venkateswarlu (Vinnie)
2002